Refine Search
Fight flight freeze
You never know what the person in front of you may be dealing with in addition to COVID-19.
Play
Finding family during COVID-19
When parents are going through a crisis, volunteer Host Families offer loving care to parents, watching over their children while the parents regain stability. For Rena, it meant finding family in the face of a global pandemic.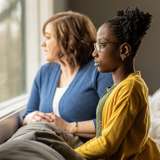 Your support changes lives