What is the goal of these programs?
Children around the world flee their homes due to war, violence, natural disasters, or persecution. These unaccompanied children seek refuge and a safe, comforting place to heal.
Bethany's goal is to keep kids safe by reuniting them with a loved one in the U.S. and helping them adjust to their new home. Children most often reunite with family members or a family friend who is identified as their sponsor and can provide them with a stable home.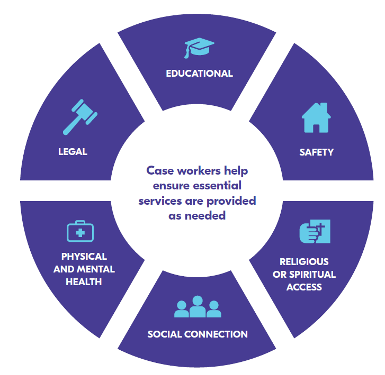 What do Bethany's home study and post-release services include?
A case manager conducts a home study, ensuring the child will be safe with the family and in the home. We then connect the family to a variety of services to help them thrive.
We offer these services through a direct contract with the Office of Refugee Resettlement (ORR) and subcontracts with Lutheran Immigration and Refugee Services (LIRS) and United States Conference of Catholic Bishops (USCCB).
Ongoing post-release services
After the child arrives, the case manager checks in with the family at the 14-day, 30-day, 60-day, and 90-day marks. The family or child has access to the case manager outside the scheduled check-ins if they have questions, experience a crisis, or need intervention. Services may be extended if the case manager determines there are special needs or circumstances that require additional support.
"It's our greatest pleasure to be right there with families in their journey, as they find safety, comfort, and dignity."
- Tawnya Brown, Senior Vice President of Global, Refugee, and Immigrant Services
If you have questions or need a resource, please reach out!