How a promise to a dying mother transformed an Ethiopian family
Mezgede and Aaron needed help to keep Biruktawit out of an orphanage.
Brad Kramer and Irisaida Méndez

As Kassech lay dying, she begged Mezgede: Promise me you will take care of my daughter when I am gone. Making this promise would change Mezgede's life—as well as the life of a young girl.
In a small, rented room in the Ethiopian city of Addis Ababa, a family of three lived together: Hailu, his wife Kassech, and their young daughter, Biruktawit. Over eight years, they became close friends with their landlords, Mezgede and Aaron.
Tragically, both Hailu and Kassech developed a chronic medical condition and died within three years of each other. Before Kassech passed away, she asked Mezgede and Aaron to take care of her daughter and protect her. Honoring their friendship, they promised to raise Biruktawit. They knew if they didn't, the girl would certainly face a difficult life in an orphanage. They determined they would not let that happen.
But to keep their promise—making Biruktawit part of their family—the couple knew they would need help. On their modest income, they already struggled to provide for their four biological children. There wasn't enough money to provide for another child. The government referred them to Bethany's Family Preservation and Empowerment program.
Nazrawit, their Bethany caseworker, realized Mezgede and Aaron needed immediate help if this growing family was to stay together. Bethany provided the family with a monthly stipend to cover some of their basic expenses, including food and housing repairs. The family also received care for their medical, mental, and emotional needs.
In addition to meeting these immediate needs, Bethany provided Mezgede the tools to achieve long-term financial stability. Before joining the program, Mezgede earned small amounts of money by selling injera, a traditional Ethiopian bread. With Bethany's support, she was equipped to transition her business to earn more income for her family. She joined a local credit union, took out a loan, and began selling chickens and eggs. Today, she's part of a community of small business owners. She has paid back almost all her loan, and her business is growing. Mezgede's new income covers all the family's necessities, even with the addition of Biruktawit to the family.
With the family's newfound stability, Mezgede and Aaron decided to take the final step to fulfill their promise: Through Bethany they formalized Biruktawit's adoption into their family.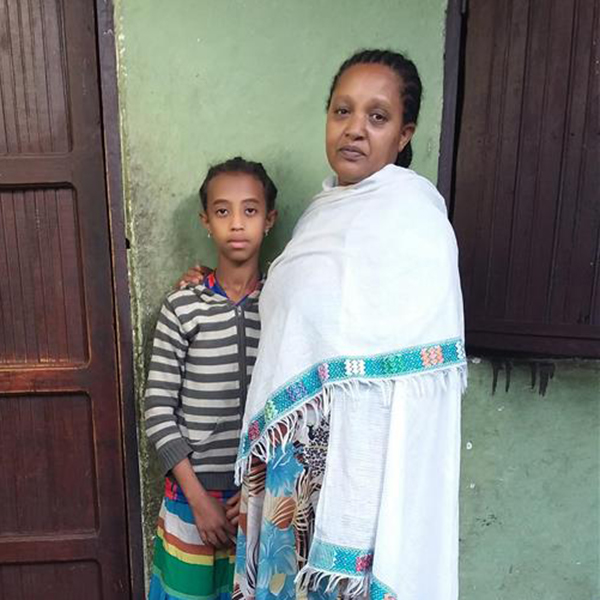 Mezgede and Biruktawit
A recently published study revealed that every 12 seconds, a child loses their primary caregiver to COVID-19. Even more alarming, "the current global COVID-19 death trajectory suggests that 8 to 9 million more children will likely lose their primary caregivers by the end of 2022." Without an urgent coordinated effort to identify and support families for these vulnerable children, the study warns that many of them could end up in orphanages.
For over 20 years, Bethany has been working around the world to keep vulnerable children out of orphanages, place them in loving families, and support those families so they can stay together through challenging times. The pandemic has made this work even more vital; and Bethany is ready, able, and willing to meet the challenge.
Read more about Bethany's efforts to strengthen vulnerable families around in the world in this op-ed by VP of Global Services Leena Hill.