Faces of resilience: Serving refugees around the world
Read real stories from Ethiopia and Colombia.
Brad Kramer, content writer

Across the world, violence, persecution, and poverty have forced almost 80 million people from their homes. Refugees have many different stories and backgrounds, but they all share the same needs: food, shelter, safety, and connection. On three continents, Bethany staff work to meet these needs, helping refugees recover from trauma and build new lives in a new community.
To commemorate World Refugee Day, we're sharing a few of their stories from around the globe.
Note: Some names have been changed for privacy.
Ethiopia
In Ethiopia, Bethany serves refugees from neighboring South Sudan. According to Aleaf Gebreamlak, a Bethany social worker in the Pugnido Refugee Camp, the pandemic has made life extremely difficult for refugees in that area—even more difficult than it already was. In the camp, Bethany trains refugee volunteers to support fellow refugees dealing with stress and trauma.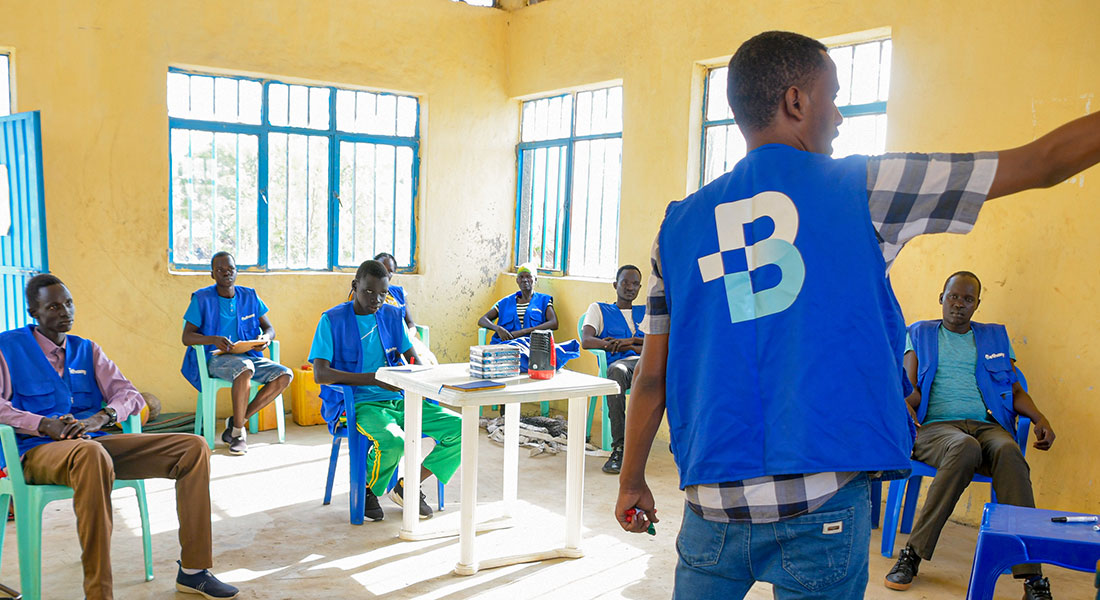 Training refugee volunteers at the Gambella refugee camp
Dak Both is a refugee volunteer who has been trained as a counselor. Both says, "The COVID outbreak, conflicts between refugees and host communities, and restriction of movement [have led to] stress and uncertainty. Many South Sudanese [refugees] are desperate."
"My colleagues and I dedicate ourselves to restoring the mental well-being of our community," Both adds. In addition to counseling, the volunteers organize community activities such as drama performances and songs to disseminate information and awareness about mental health and prepare youth to face life obstacles. In Africa, songs help to hold communities together and pass morals and traditions onto future generations.
Martha and her six children have been living in Pugnido Refugee Camp for seven years. In 2014, she fled violent conflict in her home country of South Sudan to Ethiopia. The pandemic further complicated the single mother's life.
"Having no social support, restricted movements, and lack of safety has made us vulnerable," Martha says. "As a result, I became hopeless and stressed. I passed several sleepless nights, lost my appetite, and isolated myself from others. These changes continued for a month. My health deteriorated and I became more aggressive. I was not even able to perform some daily house chores."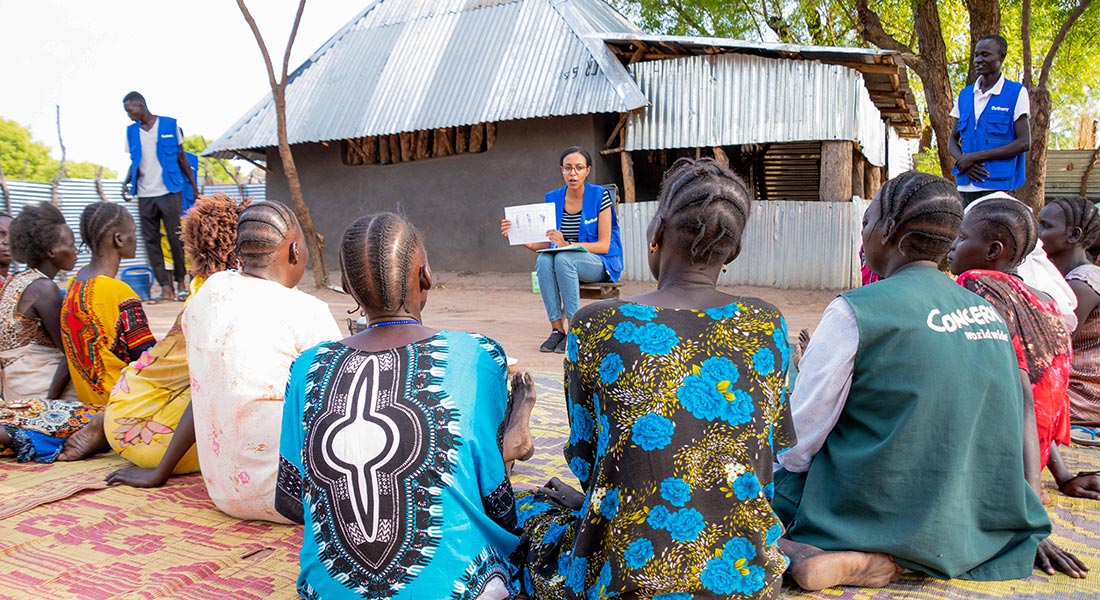 Bethany staff lead a community meeting for refugees
One day, Martha saw Bethany volunteers running a community meeting in her village. They were helping refugees find support to recover from the mental effects of trauma. She decided to talk to the volunteer, who connected her with a Bethany psychologist.
"[The psychologist] listened to all my problems and developed a plan how to address them step by step," says Martha. "I realized that I wasn't the only one who was suffering from such problems." With Bethany's help, Martha learned ways to cope with her challenges, and she even established a support group to help others in the camp.
Gebreamlak is thrilled to see how Bethany is making a difference in these refugee communities. "I see fear, helplessness, confusion in their eyes—but also hope," she says. "In that hope, we can see their resilience."
Colombia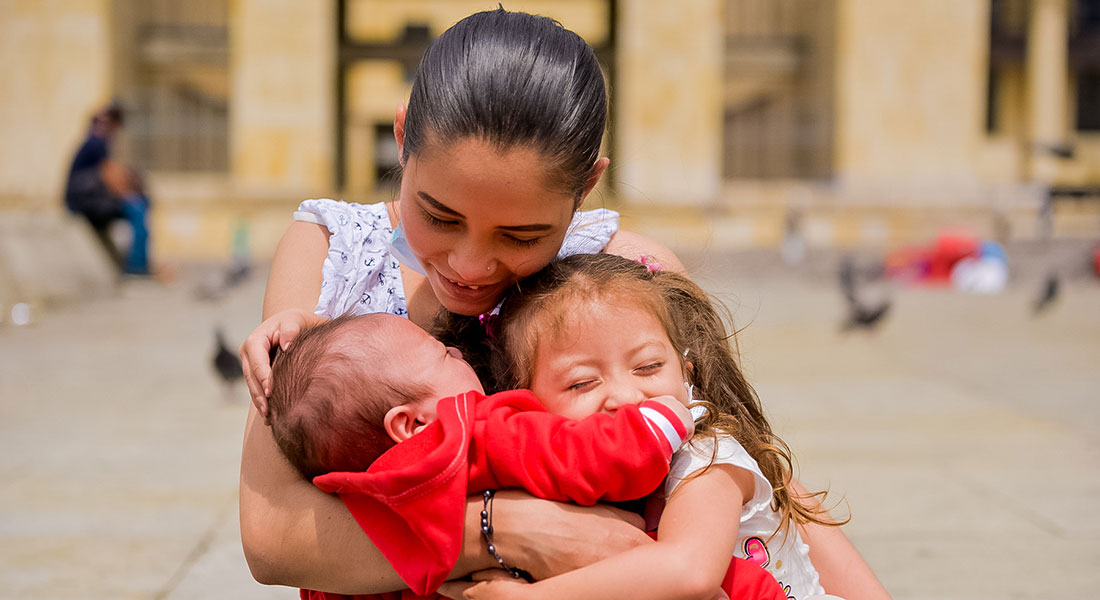 In Colombia, Bethany works with Venezuelan refugees, migrants, and internally displaced people who are fleeing—yet still experiencing—poverty and violence.
Lilian and her family fled to Colombia in search of safety and economic opportunity. She supports her family by working at a food stand on the street. Elsy has a similar story. She sells coffee to make a living, but she dreams of finding a job that could provide a better life for her family.
Bethany supports mothers like Lilian and Elsy through financial aid, legal help, pregnancy/maternal health support, and business skills training. The goal is to help them heal from the trauma of their refugee journey and thrive in their new communities. Venezuelan refugees often face uncertainty in Colombia, and Bethany's Woman's Circle program aims to give these women a sense of dignity and stability.
Another population Bethany serves is refugee children and youth who have been separated from their families. José Luis, 14, fled with his family to Cúcuta, Colombia, to escape Venezuela's social and economic instability. His parents divorced soon after they arrived in Colombia, which unfortunately is a common occurrence for refugee families. Due to complicated circumstances, he ran away from his mother, and now lives by himself.
José Luis found help at a Bethany's Safe Space, a program for young refugees like himself. He has received counseling, food vouchers, and other support to keep him safe.
María Juliana is a 15-year-old refugee who came to Colombia to live with her boyfriend and his family. As a refugee who lives on the margins of Colombian society, she has struggled to make an income without legal papers.
Young women like María Juliana are extremely vulnerable to violence, exploitation, and trafficking. Through Bethany's Women's Empowerment program, Maria Juliana is receiving food support, health education, counseling, and legal help.
Bethany refugee programs around the world provide relief, healing, and empowerment, supporting refugees as they build a new future for themselves.