A journey to Grace and a gift of a lifetime
We are all called to go. Thank you for answering.
April 18, 2023 | Daneal Lightner, content writer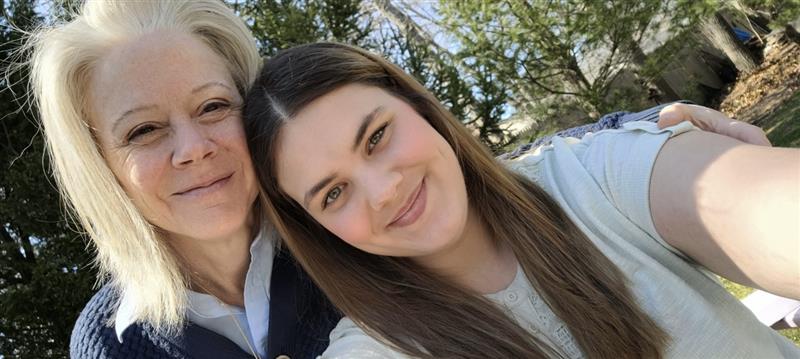 Every year in the U.S., more than 23,000 children age out of foster care and enter young adulthood without the support of a family.
Drawn to Bethany's commitment to care for those who seem to have been forgotten by the world, like teens waiting for a forever family, Lisa Marie dreamed of a solution—the Grace Fund.
A journey to Grace
"When I was 46, I was in Israel on a work trip. As I traveled the Holy Land, I experienced a spiritual deepening. I began to feel an unexpected yet strong and unmistakable call to motherhood. And I listened to it."
Two years later, Lisa Marie adopted her daughter through Bethany. Mallory Grace was a 14-year-old who had been in foster care for seven years.
"I was drawn to Christ's words in Matthew 25, 'Whenever you did one of these things to someone overlooked or ignored, that was me.' If you don't see the face of Christ in a 14-year-old child who's hurting and alone, where will you see the face of Christ?"
Lisa Marie explained that as she read profiles of teens in foster care waiting to be adopted, she was drawn to Mallory's. The boxes it took to hold her large file revealed that Mallory had already experienced a lifetime of disappointment and trauma. Like many teens who've spent years in foster care, Mallory had been in and out of different foster homes, shelters, and a residential treatment center.
She had a lot of healing to do, and Lisa Marie was there every step of the way. The process was long and took time. Through it, they both found deep love and family.
"Because of my faith and the call I felt, I wasn't asking myself, Do I want to do this or not? Instead, I was asking, How do I do this? How do I answer this call?"
After seeing the difference family made for Mallory, Lisa Marie became a passionate and regular supporter of Bethany. She gave to help others find the love, safety, and connection that she and Mallory share. But she wanted to do more.
The gift of a lifetime
So in 2020, Lisa Marie established the Grace Fund with a $10,000 gift and also pledged a legacy gift to the fund through her will.
This Bethany endowment fund, named to honor Mallory, financially assists families who want to adopt children ages 13 and older—teens at risk of aging out of foster care who might not find the safe, loving permanence of family.
Lisa Marie says, "I worked with Bethany to set up this fund because I want to see this work go further. The Grace Fund gives perpetuity to the work we all want to see happen. It gives these waiting children a voice and a name, reminding us they are out there and waiting."
Every donation to the Grace Fund is invested long term so it will continue to bless families and children for generations to come. An annual disbursement of 5% of the total assets is used to grant money to families to help cover costs associated with adoption, such as legal fees, travel, medical treatment, counseling, therapy, and more.
Foster care is meant to be temporary, with the primary goal of reunifying the family and helping them grow stronger together. For many children, foster care can provide short-term safety, protection, and healing. But for those who cannot return to their families and are left behind in the system for years, new traumas can unfold.
In Mallory's case, as is common for older youth adopted out of foster care, she needed specialized services and therapy to begin to heal, feel safe, and thrive in her new family. She was able to attend a six-week therapeutic summer camp, where fun experiences, sports, and activities were provided alongside group and intensive individual therapy.
Many families who want to open their homes to older children don't have the resources to cover the costs of adoption plus provide specialized therapy or other treatments that many teens need to heal and move forward. Through the Grace Fund, children and families who need this support will be able to access it.
"How do you get your child in front of the right therapist without enough resources? How do you expose them to softball, guitar, or singing? Many children in foster care have not had opportunities to explore these kinds of experiences. They may not know what they're good at or what they enjoy. Exploring these things costs money. The Grace Fund can help."
Like Mallory, many teens who have been in foster care for years have experienced a lot of trauma and terrible loss. "They have likely been caught up in the system and their needs are compounding as they stare down 18 with no family and no support. They're looking at a difficult, lonely path. They have a longing in their heart to be loved, to have a family."
We are all called
For teens who never find that forever family and age out of foster care, the statistics are devastating.
20% become instantly homeless and up to 50% become homeless within 18 months

25% do not graduate from high school or pass their GED

50% have no earned income after four years, and those who do earn income make less than $7,500 annually

50% develop an addiction to drugs or alcohol

70% of young women become pregnant before age 21

60% of young men will be convicted of a crime

Less than 3% will earn a college degree
But together, we can shatter these statistics. We can ensure that youth have the love, guidance, and support to navigate the transition into adulthood.
As Lisa Marie says, "We are not all called to be adoptive parents, but we are all called to help. Bethany is an extension of how we are each the hands and heart of Christ in the world. When we work with others who share the same charity of heart, our brothers and sisters in Christ, we can do something bigger than any of us can do on our own."
Lisa Marie hopes to inspire others to "continue making charitable gifts throughout your lifetime and then finally consider making the gift of a lifetime, a charitable bequest in your will, to continue the work that matters to all of us in perpetuity."
To make a gift to support the Grace Fund endowment please write "Grace Fund" in the memo line of your check and send to Bethany 901 Eastern Ave NE, Grand Rapids, MI 49503. Or to discuss making a giving plan of your own, contact your donor representative. If you don't have one, contact Justin Rodstrom, senior director of gift planning, at [email protected] or (302) 299-7339.
"When you hear the call to help, you don't have to answer it alone. We can't get there alone in our lifetime. But together, we can bless others with the blessings God has given each of us. Like the loaves and the fishes, your gifts will be multiplied." — Lisa Marie